It's the second last month of 2023, so let's make it count! Are you ready to dive into the vibrant and exciting events happening in Kuala Lumpur this November? Grab your friends, put on your party hats, and let's explore the November events happening around Kuala Lumpur!
Taylor Swift The Eras Tour Screening
Swifties rejoice!!! While we fumed when Malaysia was not on the list of 100 countries where her Eras Tour would be premiered on 13th Oct, our local cinemas eventually surprised us that they will screen it beginning 3rd Nov! *SCREAMS!!!*
So unite all Swifties and fill up the cinemas to enjoy the goddess's vocals and presence!
Where: At selected GSC and TGV cinemas.
When: Every Thurs, Fri, Sat, Sun from 3rd - 26th November
How to go: Check ticket prices at GSC and TGV websites
You Ni Market 12.0 x Eat Drink Play (EDP) 2023
Get ready to have fun at You Ni Market 12.0 x Eat Drink Play this November! With over 300 types of craft beer and 110 vendors, there's food, handmade crafts and workshops, and all-day live music and art performances!

On November 4th-5th, the annual Eat Drink Play Craft Beer Festival will be held in conjunction with You Ni Market, a three-day feast for the taste buds and the arts at Town Park, MyTOWN Shopping Centre. With more than 300 craft beers from around the world to choose from, you can sip and savor in a relaxed atmosphere while enjoying live music performances.

Participants will also be able to enjoy crafts and delicacies made by over 150 artisans, creative craft workshops and stunning art installations for photo opportunities. Head over to The Link, Town Park & Sunken Garden @ MyTown Shopping Centre on the following dates!

When:
3rd Nov (5 pm - 11 pm): EDP Preview + Media Night
4th - 5th Nov (10 am - 11 pm): EDP + You Ni Market 12.0
11th - 12th Nov: You Ni Market 12.0
Where: MyTown Shopping Centre
Sime Darby Property Night Run & Ride (30km Fun Ride)
If you're up for something to move your body, sign up for the Sime Darby Property Night Run & Ride!
What you may get as a runner? Ultron® event jersey, 30km finisher medal (strictly for finishers only), race bib, bike bib, E-certificate, personal accident insurance, and light refreshments!
When: 11th Nov 2023 (Saturday) 10 am - 5 pm
Where: Elmina Pavilion
How to go: Register here. Registrations end 9th November, 2023, 11:59 pm (GMT +08:00). 
Deepavali Delights: The Festival of Lights
*Photo from Mid Valley Megamall's Facebook
Get ready to be dazzled by the mesmerizing lights and vibrant colors of Deepavali, also known as Diwali, the Festival of Lights. This Hindu festival celebrates the triumph of light over darkness and good over evil. Join the locals as they illuminate the city with beautiful oil lamps, indulge in mouthwatering Indian delicacies, and dance to the beats of traditional music. Don't forget to wear your brightest attire and join in the joyous festivities!

Whether or not you are celebrating Deepavali, as fellow Malaysians, we have always embraced each others' culture and revel in the festivities. As the sales start and shopper flock, let's also marvel at the beautiful kolams and decorations in the malls because what KL has in abundance is malls! Head to major shopping malls near you to soak in some Diwali goodness!

Where: Shopping malls all over the country
When: From now until they decide to change the deco to Christmas!
KL International Beauty Week 2023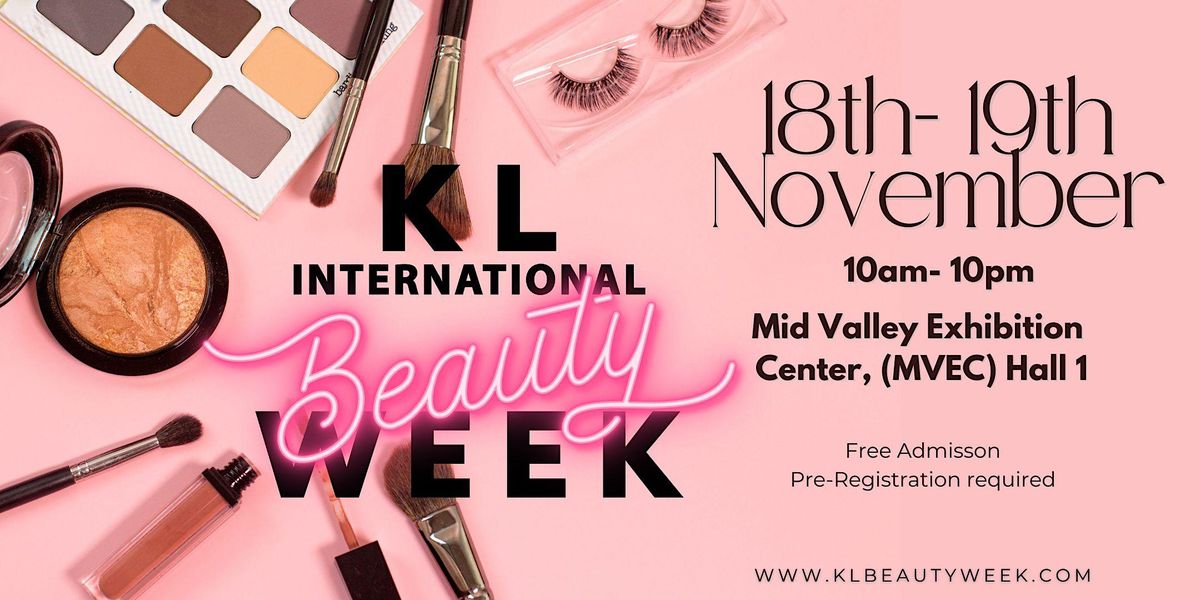 Make sure to mark your calendars for KL International Beauty Week 2023, an unmissable event for all beauty enthusiasts! Prepare to immerse yourself in the captivating world of beauty, where you'll have the chance to uncover the latest trends, products, and techniques in the beauty industry, spanning skincare, makeup, haircare, and wellness.

This event offers a unique opportunity to explore a diverse array of exhibitors, allowing you to discover new brands, test out their products, and access exclusive offers. And that's not all! We're thrilled to present an exciting lineup of live demonstrations, workshops, and talks by renowned beauty experts on the Beauty Stage. You'll gain valuable insights, learn helpful tips and tricks, stay updated with the most recent beauty innovations, and find inspiration to enhance your own beauty routine.

Whether you're a seasoned beauty professional or simply passionate about all things beauty, this event serves as the perfect platform to connect with like-minded individuals.

So, mark your calendars and get ready for a day filled with beauty at KL International Beauty Week 2023. This is an extraordinary opportunity you won't want to miss, as it's a chance to explore, learn, and celebrate the wonderful world of beauty!

When: 18th Nov (Sat) 11 am - 10 pm & 19th Nov (Sun) 10 am - 10 pm
Where: Mid Valley Exhibition Center
How to go: Free admission
BIG HOME EXPO 2023 (Encore Sales)
For those that missed the last expo in October, Big Home Expo is having an encore sale! It might be a little too late to shop for Deepavali, but perhaps you can get your home ready for Christmas or the New Year!

BIG HOMExpo is a comprehensive home exhibition catering to all your home needs, including refurbishment, renovation, and decoration. Enjoy remarkable sales and discounts on various home appliances, kitchen and bath products, lighting solutions, interior design services, custom wardrobes, sofas, mattresses, and much more. Samsung, Sharp, LG, Electrolux and Getha are one of the many featured brands.
When: 16th - 19th Nov 2023 (Thurs, Fri, Sat & Sun) 11am -  9pm
Where: Bukit Jalil Stadium Carpark B
How to go: Free admission


Follow us on our social media!
IG: @sundaysfitmy Tiktok: @sundaysfitmy XHS: @sundaysfitmy